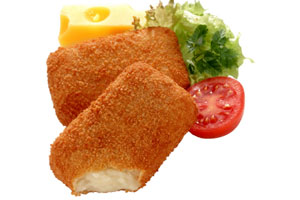 Preparation time : 30 mins. | Serves 6-8 croquettes
This recipe of cheese croquettes is prepared with two flavors of cheese; Gruyere and Parmesan. Preparation of these croquettes are quite simple and easy, you can also use some stuffing of veggies or meat while rolling these croquettes to enjoy multiple flavors.
Ingredients:
4 tbsp margarine
2-3 tbsp plain flour
½ kg milk
¼ cup Gruyere cheese (or as required)
¼ cup Parmesan cheese (or as required)
Salt to taste
1 tsp black pepper
1 tsp white pepper
½ tsp oregano
Bread crumbs as required
Oil for deep frying
Procedure:
1. Prepare white sauce using milk, flour and margarine. The consistency of this white sauce should be thick as compare to other white sauce so that smooth shape of croquettes would form.
2. Now add both flavor of cheese and seasoning including salt, pepper and oregano and mix using flat spatula.
3. When all the ingredients mix together then spread the mixture onto the wide dish and let it cool to room temperature.
4. After that when the mixture sets well cut it into 2 in. strips and the wrap each of then to make roll.
5. Coat these rolls in bread crumbs.
6. Heat oil to moderate temperature and then fry croquettes in batches for 3-4 mins. until become golden brown in color.
7. Serve the delicious cheese croquettes with ketchup or any sauce.
photo source : 1