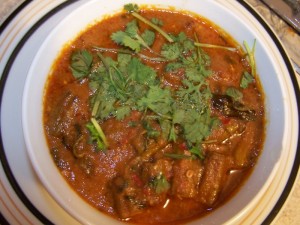 Preparation time : 25 mins. | Serves 4 persons
This okra tomato recipe is from Pakistani cuisine which is bit spicier then other okra tomato recipes. This spicy okra is served hot with boiled rice or traditional bread (chapati).
Ingredients:
½ kg okra (cut tips and tale only)
3 medium size tomatoes (chopped)
2 medium size onions (sliced)
1 tbsp red pepper
½ tbsp ground cumin
1 tsp ground black pepper
½ tbsp garam masala powder
½ tsp turmeric powder
Salt to taste
1 ½ cup oil
Procedure:
1. In one cup oil, fry okra for 5-8 mins on high flame until all the lust from the okra vanish and color starts to turn into light brown then drain them from oil and set aside.
2. Now add rest of the oil and fry onions till becomes light golden brown and crisp.
3. Add chopped tomatoes and all the spices to the onions and cook until tomatoes become soft and oil starts to separate from the gravy.
4. Then add fried okra with ¼ cup of water and simmer for just 5 mins.
5. After that take them out in serving platter and garnish with fresh coriander leaves.
photo source : 1