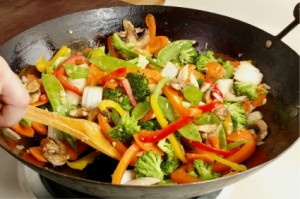 Preparation time : 15 mins. | Serves 4-6 persons
This vegetable stir fry recipe is from Thai cuisine which is usually served with boiled rice. Soya sauce is the main ingredient of this recipe which is used to give flavor to the veggies along with salt and pepper.
Ingredients:
1 small cabbage (thinly shredded)
6 medium broccoli (cut into small pieces)
10 green peas
1 cup carrot (thinly sliced)
2 asparagus (cut into small pieces)
3 mushrooms (halved)
½ cup green and red bell chilies (julienne)
½ cup baby corn or canned corns
½ cup bean sprouts
2 tsp garlic (minced)
4 tbsp cooking oil
1 tbsp dark soya sauce
2 tbsp light soya sauce
1 tsp ground pepper
Salt to taste
Procedure:
1. In a wok, sauté garlic in oil for 1 min.
2. After that add vegetables which includes cabbage, broccoli, snow peas, carrot, asparagus, mushrooms, chilies and baby corn, stir and cook them together on high flame for 4-5 mins.
3. Then add dark and light soya sauce, salt, pepper and bean sprouts and stir for 3-4 mins more.
4. When the vegetables look dry, take them out in serving platter and serve hot with any sauce.