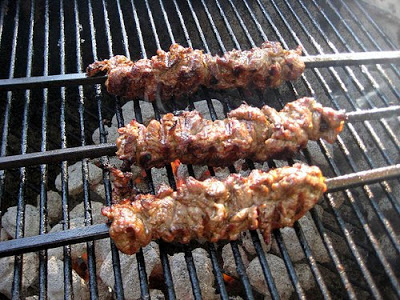 Preparation time : 1 hr. + 3 hr. Marination time | Serves 4 persons
This bihari kabab recipe is one of the most popular item for any dinner party in Pakistani cuisine, or it is specially prepared during the holy month of Eid-ul-Adha when people arrange bbq parties at home. This is the original bihari kabab recipe and its ingredients are almost similar to that of our beef curry recipe so do try this recipe at home and enjoy bbq party with your friends and family.
Ingredients:
1 kg meat (leaned and cut into 3-4 inch long strips)
2 medium onions (fried and crushed)
125 gm yogurt
2 medium size onion (boiled and form paste)
1 tbsp roasted ground poppy seeds
3-4 tbsp papaya paste
1 1/2 tbsp red pepper powder
1 tbsp cumin powder
1 tsp black pepper powder
1/2 tbsp hot mix
1/2 tsp nutmeg and mace powder
3 tbsp ginger paste
1/2 cup mustard oil
Procedure:
1. Take a deep sauce pan and marinate beef slices in the above mentioned ingredients and leave it for at least 3 hrs. until meat become tender so that it can easily break by pressing fingers.
2. When the meat slices become tender insert them in iron bbq skewers. The right way to insert each slice is to take a long slice and fold it to double (length wise) and then insert it in stick from one corner, then insert from middle and at the insert other corner, so a 3-4 inch beef slice is inserted in skewer from three points and hence it would not break or drop from the skewer during bbq. Insert 2-3 slices in each skewer and then spread them lightly over the skewer to balance.
3. Prepare your bbq grill and heat coal well to bbq beef skewers, place 3-4 skewers on the grill according to the size, turn them during bbq so that they would not burn and cook evenly. One batch of bbq would take 8-10 mins. to complete.
Serving:
Serve the hot bihari kabab with green yogurt sauce, onion rings and paratha.