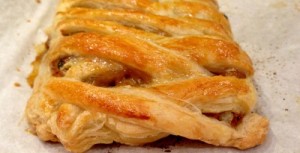 Preparation time : 60 mins. + Dough resting time | Serves 6-8 pieces
This stromboli recipe belongs to either American or Italian cuisine, since its dough is quite similar to Italian bread. Though the filling of the stromboli is more or less similar to the pizza topping but has slightly different flavor because of its method. The most interesting thing of this recipe is its way of stuffing and the sealing which makes its look very impressive.
Ingredients:
For Dough:
2½ cup all-purpose flour
1 tbsp instant yeast
3 tbsp sugar
1 tsp salt
1 egg
3 tbsp oil
Luke warm water as required
For Filling:
1 boneless chicken breast (cut into strips)
2 red onion (sliced)
½ cup mushrooms (sliced)
1 cup red and green capsicum mix (julienne)
Salt and black pepper to taste
1 chicken bouillon (mashed or scrubbed)
2-3 tbsp soya sauce
1 tbsp lemon juice
2-3 green chillies (chopped)
1 cup cheddar cheese (grated)
2 tbsp oil
2 egg yolks (beaten)
Procedure:
1. TO prepare dough, mix all the dry ingredients, oil and egg and mix them well.
2. Add in lukewarm water to knead the dough until gets smooth and soft, then cover the dough and leave it for 2 hrs. in a deep bowl.
3. Meanwhile prepare stuffing, heat oil in a saucepan fry chicken till gets dry, then add salt, pepper, chicken bouillon, lemon juice and soya sauce and cook for 5-10 mins. over medium heat.
4. After that, remove the pan from heat, add remaining veggies and toss well to mix the flavors.
7. When dough is ready (rise to almost double), take it out and knead a bit more to remove air. Then start rolling it onto the greased and dusted baking tray.
8. Then spread the prepared filling in the center, cut dough from the sides in such a way that tilted strips are formed, then overlap strips from each side over the filling, hence closing the bread from the top. Brush the top with beaten egg yolk and let it rest for 25 mins.
9. Preheat oven for 350 degrees F, and then bake for 30-35 mins. till gets golden brown from top.
photo source : 1