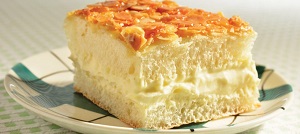 Serves 9-inch cake
This Bee Sting Cake Recipe is also known as Bienenstich and is a traditional German cake. The specialty of this cake is mainly the sweet yeast dough which is topped with delicious caramelized almonds and pastry cream filling inside. By assembling these three things together in the form of a layered cake, an extremely delicious cake is formed – the Bee Sting Cake.
Ingredients:
For Pastry Cream:
1¼ cup milk
1 tsp pure vanilla extract
3 large egg yolks
¼ cup granulated sugar
2 tbsp all-purpose flour
2 tbsp corn flour
For Brioche Dough:
¼ cup warm milk (up to 115 degrees F)
1 tbsp honey
1½ tsp active dry yeast
2 large eggs (lightly beaten)
¾ cup all-purpose flour
2 tbsp granulated sugar
½ tsp salt
1 cup plus 2 tbsp bread flour
½ cup unsalted butter (softened)
For Topping:
4 tbsp unsalted butter
¼ cup sugar
¼ cup honey
pinch of salt
¾ cup sliced almonds
Procedure:
1. First you need to prepare a few things earlier or a day before when it will be going to serve. These things include the pastry cream and brioche dough for the sponge.
2. Go to our Vanilla Pastry Cream Recipe page to get the recipe for the frosting of this cake.
3. Visit the Brioche Dough Recipe to learn how to prepare dough for the sponge.
4. When the dough is ready place the dough ball into the greased 9-inch cake pan and slightly press the dough to spread a little bit like the size of your palm.
5. Now prepare the topping by mixing together butter, sugar, honey, and salt. Heat the mixture till the mixture starts bubbling then immediately remove the pan from heat and stir with almond slices.
6. When the topping gets cool to room temperature pour it onto the dough. Place the cake pan in the preheated oven at 350 degrees F in the center of the oven for just 20-25 mins. or until it becomes golden brown from the top.
7. When the sponge is ready take it out of the oven and cool it on a wire rack. Place the cake onto the cake stand and slice it into two halves.
8. Remove the top half and spread pastry cram onto the top of the second half, cover the cream with the top half of the cake, then cover the top with caramelized almonds and then serve after cutting into slices.
photo source : 1