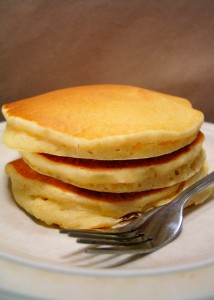 Preparation time : 30 mins. | Serves 4-6 pancakes
This Fluffy Pancake Recipe is one of a light and delicious breakfast item which is suitable for everyone. These pancakes can be served as it is with tea or you can add some more flavors like caramel syrup, honey, butter, fruits, cream, etc. to make it more healthy and rich.
Ingredients:
¾ cup milk
2 tbsp white vinegar
1 cup plain flour
3 tbsp sugar
1 tsp baking powder
½ tsp baking soda
¼ tsp salt
1 egg
2 tbsp melted butter
1 tsp vanilla
Procedure:
1. In a mixing bowl combine milk and vinegar and set aside for 10 mins. to make it soured milk or instead of making soured milk you may add 1 cup of buttermilk.
2. Meanwhile sift together flour, baking powder, baking soda, salt and sugar.
3. In another bowl, whisk together butter and egg then add soured milk and vanilla to the egg and beat well to make it foamy.
4. Now gradually add dry mixture and mix it evenly with the batter.
5. When batter gets smooth texture with medium consistency set aside for 10 mins.
6. Heat frying pan with very little amount of oil and spoon batter using ladle, spread it from the center in circular pattern and cook it in low heat. When bubbles starts to appear on the surface and pancake looks slightly dry from bottom turn it to other side and cook till gets light brown in color.
7. Serve warm with butter, honey, maple syrup, powdered sugar-cinnamon blend or any fruit of your choice.
photo source : 1