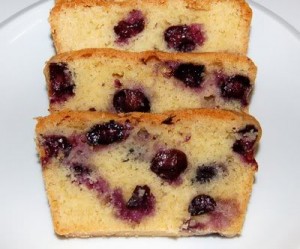 Preparation time : 40 mins. | Serves 6 persons
This is our first blueberry cake recipe which is prepared in pressure cooker. Besides its unique cooking method another point of this cake is that no egg is used to prepare this cake and the cake is still soft and tastes great as just like egg cakes. In this recipe you can do lots of variations like in place of corn bread mix use corn meal and instead of brown sugar you may use maple syrup which also tastes good.
Ingredients:
1 cup all purpose flour
1/2 cup corn bread mix
1/2 tsp baking powder
3/4 tsp cinnamon
1/4 tsp nutmeg
Pinch of salt
1 tbsp lemon rind
2 cups blueberries (fresh or frozen)
1/2 cup apple juice
1 cup brown syrup
½ cup milk
Procedure:
1. Sift together dry ingredients including flour, bread mix, baking powder, cinnamon, nutmeg and salt.
2. Add lemon rind and blueberries to the dry mixture.
3. In a separate bowl combine apple juice, brown sugar and milk.
4. Mix both the dry and liquid mixture together (add milk if you feel the batter is too thick and could not fold easily).
5. Pour the batter into the greased baking pan or bundt which can easily set into your pressure cooker. Seal the pan completely using aluminum foil.
6. Now pour 3-4 cups of water into the cooker and bring to boil.
7. After that place the baking pan into the cooker over the water make sure that water level should not touch the top surface of pan. Cover the lid of cooker and let it cook for 25-30 mins.
8. After that reduce the flame to slow and let the pressure releases from the cooker and then open the lid. Take out the cake pan from the cooker and unwrap the foil to check the cake. Turn the pan upside down and take out the cake into the serving platter.