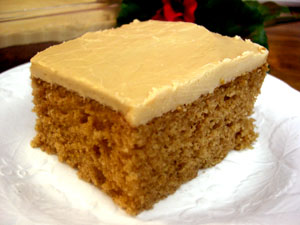 Preparation time : 60 min. | Serves 4 persons
This spice cake recipe is prepared with nuts and raisins and particular buttermilk icing. You can make this cake in layers where you need to repeat the topping thrice. Addition of coconut flakes in icing and in cake will also result in good enhanced flavor.
Ingredients:
1 cup vegetable oil
2 eggs
2 cup brown sugar
2½ cup all-purpose flour
1 tsp soda
1 cup buttermilk
1 tsp vanilla
½ tsp cinnamon
½ tsp nutmeg
½ tsp allspice
1 cup chopped nuts
1 cup raisins
For Icing:
2½ cup sugar
1½ cup buttermilk
75 gm butter
Procedure:
1. Preheat oven to 325 degrees F.
2. In a large mixing bowl, beat eggs until become fluffy and double in volume.
3. Add brown sugar and beat again for 3-4 min.
4. Add oil and beat for further 2 min.
5. Add half cup of buttermilk and beat until become smooth batter.
6. In remaining amount of buttermilk add soda and then mix it in the batter.
7. Sift together spices and flour in a separate bowl.
8. After that gradually add flour mixture and slowly mix with the batter so that no lumps would be there.
9. Then fold the batter with nuts and raisins and then pour in a greased baking pan.
10. Bake in preheated oven for 25-30 min or until become done.
11. Meanwhile prepare icing for the cake, for that in a sauce pan combine ingredients mentioned for icing and then simmer for 25 min after boiling.
12. Pour half of the mixture over the prepared cake and beat rest of the mixture until gets thick and then spread on top. Serve after chill.
photo source : 1