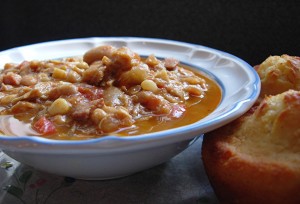 Preparation time : 2.5 hrs. | Serves 8 persons
This White chili recipe is inspired from the famous American Restaurant The Café. This recipe has rich spicy flavor but tastes delicious it could be a wonderful combination when it is served with pasta.
Ingredients:
For Stock:
3 ltr water
2 tbsp chicken bouillon
2 bay leaves
15 oz great northern beans
For Chicken Gravy:
1 cup onion (peeled & diced)
3 tbsp olive oil
1 lb boneless chicken breasts (cut into small cubes)
½ tsp salt
½ tsp pepper
1 tsp granulated garlic
2 tsp cumin
1 tsp oregano
2 tbsp minced parsley
½ tsp cayenne pepper
½ cup diced green chilies
½ cup pimento (diced)
½ cup diced tomato
Procedure:
1. Prepare chicken stock by boiling water in a pot with chicken bouillon, bay leaves and bean and simmer until reduces to half.
2. Meanwhile prepare chicken gravy in another pan for that sauté onion until become soft.
3. Add chicken with seasoning of salt and pepper and cook on medium heat until become brown.
4. After that add rest of the ingredients including garlic, cumin, oregano, parsley, cayenne, green chilies, pimento and tomato and cook until oil starts to separate form the gravy and tomatoes become soft.
5. Now add chicken mixture to the prepared stock and let the mixture boil.
6. Then simmer the sauce for 2 hrs. until it reduces to half and sauce gets thick.
photo source : 1