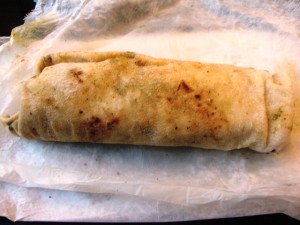 Preparation time : 60 mins. (approx.) | Serves 4-6 rolls
This chicken cheese roll recipe is one of a famous street food in Pakistani cuisine and is prepared mainly with bbq chicken with some cheesy flavor. The roll is usually served with spicy yogurt sauce and garlic sauce.
Ingredients:
For Chicken:
2 cup boneless chicken (cut into 1 inch cubes)
Salt to taste
½ tsp chili powder
½ tsp white pepper
1 tsp ginger garlic paste
2 tbsp yogurt
1 tsp roasted cumin
½ tsp hot spice mix
1 tbsp oil
1 tbsp cream
4 tbsp cheddar cheese (grated)
For Cheese Sauce:
4 tbsp cream cheese
3 tbsp white vinegar
3 tbsp cream
Procedure:
1. Marinate chicken cubes with the ingredients mentioned for chicken and leave for 30 mins.
2. After that put marinated chicken cubes on skewers and now you have choice either grill it over griller to enjoy full bbq flavor or bake in an oven for 20 mins. In case bake in oven when chicken has been done place a red hot coal piece in the center of pan, pour a tbsp of oil and cover it tightly so that smoke remains inside and remove after 10-15 mins.
3. To prepare sauce combine all the ingredients mentioned for sauce and set aside.
4. To assemble chicken cheese roll, put at least 4 to 5 cubes of chicken onto each freshly cooked paratha with spoon 2 tbsp of cheesy sauce over the chicken, roll it tightly and serve hot with yogurt sauce.
photo source : 1