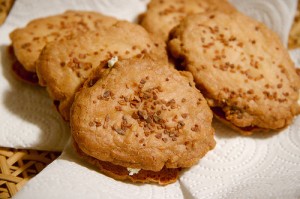 Preparation time : 30 min | Serves 18 -24 cookies
These butter cream cookies are just like any simple cream cookies in taste but are more crispy and soft. You can make lots of variations in this good recipe by adding some chocolate chips or nuts in the dough or even add apple jam in the center of cookie while baking.
Ingredients:
1½ cup powdered sugar
4 oz butter (softened)
1 tsp baking soda
1 egg
1 tsp cream of tartar
1 tsp vanilla
¼ tsp salt
2 cup flour
Procedure:
1. Combine all ingredients in a mixing bowl except flour and then fold the mixture with flour to make soft dough.
2. Chill the dough for at least 15 min. in fridge.
3. After that make small balls of 1 inch size, flatten these balls using fork onto the greased cookie sheet and sprinkle colorful sugar sprinkles for topping.
4. Place the cookie sheet in preheated oven for 350 degrees F for 8-10 min until become brown from top.