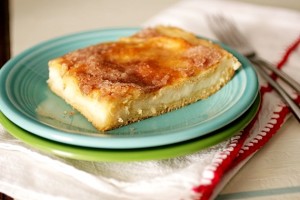 Preparation time: 40 mins. | Serves 6 persons
This Cheesecake Crescent Rolls recipe is a delicious dessert for a tea time party. In this recipe, cream cheese stuffing is sandwiched between two crescent roll layers. You even serve this recipe for a dinner dessert after applying some tempting topping of either cool whip or ice cream with some chocolate sauce.
Ingredients:
2 cans frozen crescent rolls (thawed)
16 oz cream cheese (softened)
1½ tsp vanilla
¼ cup melted butter
1 tsp ground cinnamon
1 cup sugar
Honey for topping (optional)
Procedure:
1. Take a greased and floured rectangular pan (9"x13"), unroll one of the crescent rolls,s and spread it onto the bottom of the pan.
2. In a mixing bowl, combine cream cheese, sugar, and vanilla and make a uniform batter.
3. Spread this batter over the crescent roll layer and then cover it with another crescent roll. Then pour the melted butter and sprinkle ground cinnamon on top.
4. Bake it in preheated oven at 350 degrees F for 20-30 mins. or until the top becomes light brown.
5. When the cheesecake crescent rolls are done, take them out from the oven and cool them to room temperature, cut it into pieces, and serve with a topping of honey.
photo source : 1