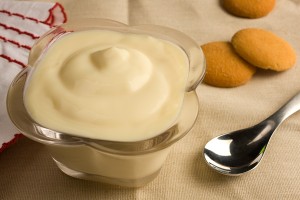 Preparation time : 30 min. + Refrigeration time | Serves 2-4 persons
This creamy pudding recipe is prepared with vanilla flavor and its method is pretty much similar to the custard. But it cooks less than the custard which is the key difference, it cooks until first bubble form so that batter would not get too thick and remain creamy. You can also prepare other flavor of creamy pudding through the same recipe.
Ingredients:
⅔ cup sugar
¼ cup cornstarch
Pinch of salt
2 cup milk
½ cup cream
4 large egg yolks
2 tbsp unsalted butter (softened)
1 tsp vanilla extract
Procedure:
1. Sift together sugar, cornstarch, and salt, gradually add milk into the dry mixture and whisk constantly so that cornflour completely dissolves in it and no lumps would form.
2. Then add egg yolks and cream and whisk again to mix well.
3. Cook the mixture over medium heat, stir constantly until the batter gets thick and starts bubbling. Just whne the first bubble seen, remove the pan from heat/
4. Pass the cooked batter to the sieve placed over the bowl. This is done to take out any lumps inside the batter so that batter would remain smooth and creamy.
5. Now add in butter and vanilla and mix well. Then immediately cover the bowl with plastic wrap to avoid skin forming and chill it in fridge for overnight.
photo source : 1