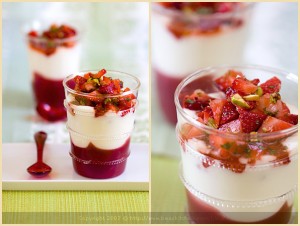 Preparation time : 15 mins. | Serves 4 persons
This fruity yogurt would be the best dessert for this summer, its very healthy and nutritious. It takes almost no time to prepare, you only need to mix the ingredients. You can make it more delicious and tempting by adding a scoop of your favorite ice cream at top.
Ingredients:
2 cup yogurt
1 pack strawberry jello mix(or any flavor)
1 pack pineapple jello mix
1 cup cream
4 tbsp honey (or as required)
1 medium apple (chopped)
½ cup strawberries (sliced)
6 large bananas (sliced)
1 cup pineapple chunks (drained)
Procedure:
1. Cook strawberry jello mix in 1 cup of water just to dissolve, then pour it into the serving glass of bowl. Place it in fridge for at least 15 min to set.
2. Meanwhile beat together yogurt, cream and honey until become smooth creamy batter.
3. Add pineapple jello mix and beat again for 1-2 min at high speed.
4. Now fold the fruits in the batter and reserved few chunks of mix fruits for topping.
5. After that pour the prepared fruity yogurt over the strawberry jelly and top with mix fruits. Chill before serving.
photo source : 1