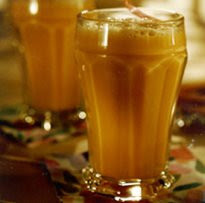 Preparation time (approx) : 5 mins | Serves 2 persons
Any fruit can be used to make mix smoothie. There is no hard and fast rule for selection of fruits but to make a healthy fruit smoothie, you have to use soft pulpy fruits instead of juicy fruits for instance banana, mango and peach will add more taste in smoothie. I mostly use banana in most of my fruit smoothies.

Ingredients:
½ cup mango chopped
½ up banana chopped
½ cup apple chopped
½ cup apricot chopped
½ cup fresh cream
Sugar to taste
1½ cup milk
Procedure:
1. In blender, blend all the fruits and sugar to make smooth paste. I prefer to use cuinart immersion blender to get fine smoothie. 
2. Add milk and cream in it and mix well.
3. Pour the shake in glass and put in freeze to chill it.
Servings:
Fruit smoothie can be served with different cakes.