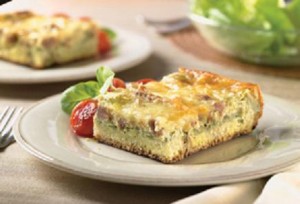 Preparation time : 70 min. + Resting time | Serves 8 pieces
This is a breakfast egg strata recipe which you can prepare at night and bake it in the morning to serve it hot. It's a perfect meal for breakfast as it contains all the necessary nutrition required for breakfast. You make lots of variation in this recipe by adding veggies of your choice and add spices according to your taste.
Ingredients:
12 bread slices (cut into cubes)
8 eggs
4 cup milk
1 cup chicken sausage
1 cup onion (finely chopped)
1 cup swiss cheese (grated)
1 cup cheddar cheese (grated)
1 tsp salt
Pepper to taste
Procedure:
1. Spread bread pieces in a greased baking dish and make layers one by one of onions, sausages, cheddar cheese and Swiss cheese.
2. In a mixing bowl beat eggs, milk, salt and pepper together and then pour it over the cheese layer. Let cover the pan and refrigerate for overnight.
3. Bake in preheated oven at 325 degrees F for an hour until become golden brown and knife inserted in center comes out clean.
photo source : 1