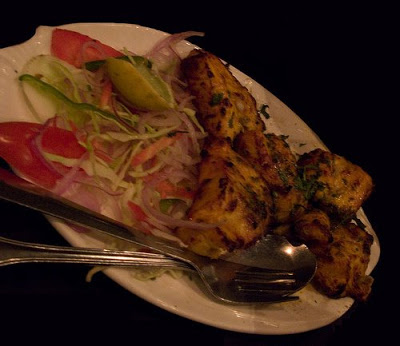 Preparation time : 40 mins | Serves 4 persons
Foods made from fish are world wide popular just because of its nutritional values which are good for all age groups. In South Asian cuisine people generally like spicy fried fish which is made by variety of methods. Here a typical Pakistani spicy fried fish recipe is shared

Ingredients:


4 fish pieces (medium size)
1 tbspn yogurt (drain out all water from it)
1 tbspn red chili powder
½ tbspn turmeric powder
Salt to taste
1 tbspn garlic paste
1 tspn ground carom (ajwain)
Oil for shallow frying

Procedure:


1. Marinate fish pieces in the above ingredients and leave in fridge for at least 30 mins.
2. Shallow fry the marinated fish pieces and take out when turns into golden brown in color. It takes 5-10 minutes to fry.
3. Instead of frying, you may also bake the marinated fish in oven for 10-15 minutes until its color changes to brown at 180 degree centigrade.

Servings:


Serve fried fish with salad and green sauce (coriander and green chili sauce) or with ketchup or any fried rice like tehri.

Note : For more detailed and illustrated seafood recipes, refer to the seafood cook book.