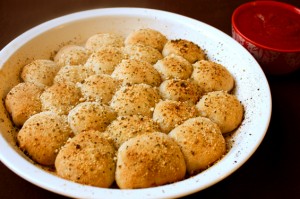 Preparation time : 30 min. | Serves 48 bites
These pizza bites are stuffed with the typical pizza topping ingredients including pepperoni, cheese and veggies while the seasoning are done on top with Parmesan cheese, so it would become a wonderful snack for youngsters to enjoy pizza flavor in different style.
Ingredients:
2 can of refrigerated pizza dough
8 oz block mozzarella cheese (cut into small cubes)
4 oz thin sliced pepperoni (chopped)
1 cup chopped capsicum
1 cup chopped tomatoes
1 cup chopped onion
2 tsp Italian seasoning (combine oregano, basil, parsley, and garlic)
¼ cup olive oil
3 tbsp grated Parmesan cheese
Pizza sauce
Procedure:
1. Preheat oven to 400 degrees F.
2. Take out dough of one can and roll it into rectangular shape of large size so that it can be cut into 24 square pieces.
3. Now put small quantity of pepperoni, chopped veggies and cube of mozzarella cheese onto each square shape piece. Then seal the dough by joining the corners together and turn the sealed side down and place it onto the greased baking tray.
4. Similarly prepare rest of the bites. When all bites are ready for baking sprinkle some Parmesan cheese and Italian seasoning on top and then bake for 20 min in preheated oven. You can also freeze the bites before baking by covering the tray completely with plastic sheet.
5. Serve the delicious hot pizza bites with pizza sauce.
photo source : 1