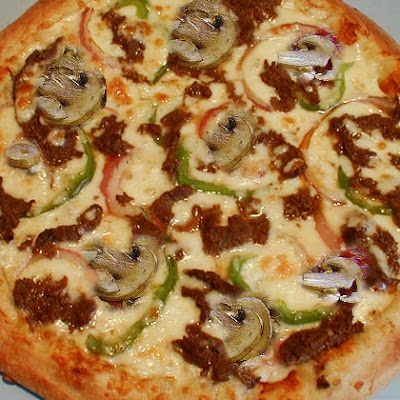 Preparation time : 20 mins. | Serves 4 persons
This steak pizza is another addition in our pizza recipes which you can easily prepare at home using your left over steak so you can call it as pizza with left over steak and hence you can use any kind of steak either beef or chicken. In this recipe grilled beef steak is used to prepare the pizza topping.

Ingredients:
1 green capsicum (julienne)
4-5 butter mushrooms
1 small onion (separate each layer and julienne)
1 medium size tomato (take out all the seeds and julienne)
2 tbsp vegetable oil
4 garlic cloves (minced)
1 regular size pizza crust
Pizza sauce as required
2 oz cream cheese
1 large piece of grilled beef steak
1/2 tsp dried oregano
1/2 tsp rosemary
1 cup mozzarella cheese (shredded)
1/4 cup grated Parmesan cheese

Procedure:
1. Take a sauce pan and saute garlic in oil for just a minute.
2. After that add onions, capsicums and mushrooms and fry for one minute more.
3. Take a large piece of beef steak and make its small pieces so that it may easily spread over the whole pizza.
4. Now put the pizza crust on pizza pan and spread pizza sauce over the whole crust just leave the sides so that topping may not drop from the pizza.
5. Pour 3-4 drops of cream cheese using tablespoon onto the sauce and then spread the cooked vegetables, shredded steak and tomatoes onto the pizza sauce.
6. After that make the topping with cheese, at first spread the Parmesan cheese and then spread the shredded mozzarella cheese and in the end sprinkle oregano and rosemary.
6. Now place the pizza pan in preheated oven for just 10 mins. at 450 degrees F. The right way to bake pizza is to turn on both the upper grill and lower burner but after 6 mins. turn off the lower burner reduce the temperature to 350 degrees F and bake only to give color for rest of the time. .