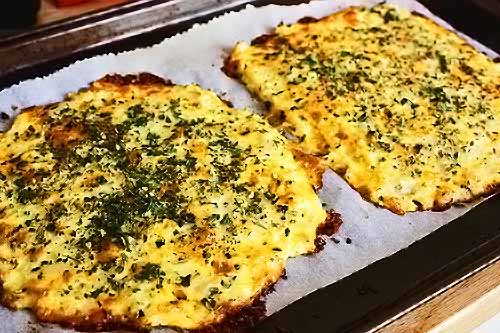 Preparation time: 30 mins. | Serves 1 large crust
This Best Cauliflower Pizza Crust recipe is perfect for those who want to eat gluten-free, low-carb pizza. You can make lots of variations in the topping of this pizza crust; in this recipe simply herbs with some skim mozzarella cheese topping is used which also tastes good.
Ingredients:
2½ cup cauliflower (grated)
1 large egg (lightly beaten)
1¼ cup mozzarella cheese (shredded)
2 tbsp parmesan cheese (grated)
2 cloves garlic (sliced)
Few basils leaves
1 tomato (sliced)
Pinch of salt
Pinch of pepper
Procedure:
1. First prepare cauliflower rice, to prepare it boil water and then add grated cauliflower in it. Cover and cook for 5 mins. then drain using a fine strainer and set aside to cool and dry.
2. To dry the cauliflower rice completely put them onto the muslin cloth or dishtowel and cover it from all around the corners to squeeze extra moisture.
3. After that add the rice to the mixing bowl and mix with egg, mozzarella, parmesan cheese, salt, and pepper.
4. When they all combined well, take a suitable pizza pan or baking sheet and line it with a parchment sheet.
5. Spread the prepared cauliflower rice mixture in a round shape and press it firmly to give it a proper shape.
6. Place the pan in preheated oven at 425 degrees F for about 15 mins. until become golden.
7. Then spread the remaining mozzarella cheese sprinkle mixed herbs on top and bake again for 5 mins. more until the cheese melts and gets bubbly.