Update: All Clad has discontinued its Chafing Dish lineups but you can still get the best rectangluar and round shape chafing dishes from other brands by visiting this page.
All Clad chafing dishes are considered to be one of the top favorites among the catering and food service industry. These are famous for their elegant design, commercial finishing, heavy duty construction and long lasting stainless steel material. You can find All Clad chafing dish in many shapes and sizes but their most popular ones are the round and rectangular shape chafing dish. You can also browse the list of other bestselling chafing dishes or continue reading below to learn more about these two All-Clad chafing dishes.
Round All Clad Chafing Dish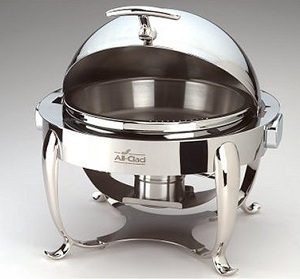 [asa]B0000CE195[/asa]
This All-Clad chafer is perfectly round in shape and is suited for snacks, soups, desserts etc. This chafing dish measures 21x21x14 inches and weighs just under 35 lbs. Like other popular designs, this chafing dish also features a roll top lid which contains adjustable locks so that you can partially open the lid of the chafer and keep it locked in that position. This is ideal for retaining the freshness and temperature of your food. The entire design of this All Clad chafer is quite elegant with mounting studs for electrical heaters as well as conventional fuel heaters. The dome like lid has a sufficiently large handle that remains cool all the time while the food inside retain its temperature. The entire construction is of top quality 18/10 stainless steel so that you are rest assured that your chafing dish will never catch rust nor corrode in the outdoors. Due to the stainless steel construction, the chafer is also very easy to clean. Only dish washing is recommended by the manufacturer to prolong its life.
Rectangular All Clad Chafing Dish
[asa]B0000CE196[/asa]
The other most popular All Clad Chafing Dish is the rectangular shape chafing dish which measures 21x19x13.8 inches and weighs close to 35 lbs. This chafing dish carries a lifetime warranty from its manufacturer and is made of restaurant quality 18/10 stainless steel material which unlike other low quality steel will never catch rust. The chafer also features stainless steel fuel holder and a lockable and completely removable top lid. Like the round chafing this, this one also has a roll-top lid. This rectangular All Clad chafing dish also has micro-vents and a large handle that remains cool all the time. The heavy stainless steel construction makes it very easy to clean with a soft cloth and warm water along with a mild-abrasive cleaner. Only hand wash is recommended to prolong the life of All Clad Chafing dishes.