Generally, Buffet Warmer servers are used for commercial purpose but nowadays, manufacturer brings this kind of serving stuff for home use also. These buffet warmers are best for any dinner, lunch, or tea party at home. The collection of these buffet warmers consists of normal-size dished which are placed collectively on a single warming tray that keeps your food warm. In this article, two types of Buffet Warmer servers are reviewed – Disposable and Stainless steel.
Disposable Buffet Warmer From Clear Lake Enterprises
This type of Buffet Warmer is designed for budget purposes, as the disposable serving stuff can be easily available in packs that can be used multiple times. Similarly, this Disposable Buffet Warmer offers a total of 33-pieces buffet serving kit which makes 3 sets. Each set consists of 11-piece serving items, these items include:
| | |
| --- | --- |
| Items | Quantity |
| Wire Chafing Rack | 1 |
| Cans Jelled Chafing Fuel | 2 |
| Full-Size Foil Water Pan | 1 |
| Half Size Foil Food Pans | 2 |
| Serving Spoons | 2 |
| Serving Forks | 2 |
| Serving Tong | 1 |
Though it is not fancy at all but works great for home parties of around 50-70 people don't matter whether the party is outside or inside. In each case, your food stays warm for 3-4 hrs. This budget-friendly Disposable Buffet Warmer is sufficient to serve up to 50 people party available at the Amazon store for only $29.99 with Free Shipping.
Stainless Steel Buffet Warmer
Waring Professional Buffet Warmer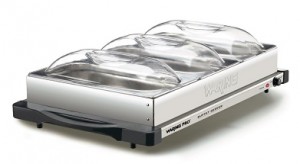 This is a brushed stainless steel body Buffet Warmer from Waring which includes, buffet servers and a warming tray. The design is electrical and works by adjusting the temperature control knob which ranges from 150 to 200 degrees F. The clear polycarbonate lids keep your dishes warm and enticing and include a handy serving utensil slot. This Waring Pro BFS50B Buffet kit consists of three 2.5-quart size chafing or warming dishes having the capacity to carry around 80 ounces of food in each dish. this makes for 20 servings.
This is a best-design Buffet Warmer which is perfect for an elegant brunch celebration or a casual dinner party. The Buffet Warming Tray can be used for warming other than these chafers for instance; you can put your casserole dish or serving bowls on this tray to keep your food warm. You can have this great Waring Buffet Warmer at a 54% discount rate from the Amazon store With Free Shipping.
Nostalgia Mini Buffet Warmer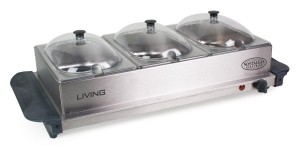 If you want a slightly bigger size Buffet Warmer, then this Living By Nostalgia BCD332 3-Station Mini Buffet Server with Warming Tray is designed for you. It consists of three 3.5-quart stainless steel chafing dishes which is sufficient for 10 servings at a time. This electric Nostalgia Mini Buffet warmer works on three temperatures- Low, Medium, and High. Like waring Buffet Warmer, its Nostalgia Warming tray can also be worked stand-alone to keep warm other food containers placed on it.
This Nostalgia Buffet Warmer is available at a 60% discount rate from Amazon Store with Free Shipping.