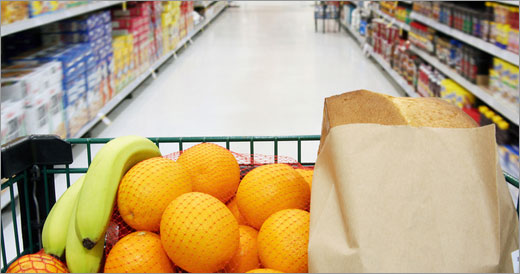 According to recent research, people in UK who buy their groceries online save up to £400 each year. They not just rely on coupon codes to save on their weekly grocery but they spend some extra time comparing prices and then getting the best possible price where they save 10-15% on grocery.
Unfortunately researching and comparing grocery prices will eat lot of customer's time and many people prefer to just log-on to their favorite online store, fill their trolleys and checkout. There are four major grocery stores in UK which offer their customers to order their groceries from their websites. These are TESCO, ASDA, Sainsbury's and Ocado. Comparing price of few items on all of these stores will not consume a lot of time but if you have a huge grocery list then you will have to spend hours in price comparison. The good thing is that there is a free service provided by www.mySupermarket.co.uk which does all the comparison with a single click and you will immediately know which grocery store is giving the best price for all of your grocery items.
All the grocery prices are updated daily so you get updated price list. To get the most out of mySupermarket FREE service, it is recommended that you register an account since it costs nothing. Then you can start adding grocery items to your trolley. When you have added all the items in your trolley, you can click the compare button which will compare individual items on all the four stores and will show the total trolley price for each store. You can either pick the one that gives you the best price or continue adding more items. When you are satisfied with your trolley, you can click the checkout button which will take you to the respective store website for filling in shipping and payment details.
mySupermarket will not only compare grocery prices but it also lets you compare individual item by its calorie count. In this way you are not just getting the best price but also the best nutrition for a healthy diet. The site also shows current deals and offers on all the four stores in the UK so that you can take advantage of any promotional offers and seasonal sale on specific grocery items.
Link : www.mySupermarket.co.uk