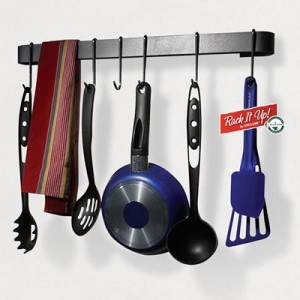 Every kitchen can look spacious irrespective of the kitchen area; all is done with proper management. All you need is proper utilization of kitchen storage gadgets like this Kitchen Utensil Hanging Rack by Enclume. This kind of rack is easily available in different styles and designs for instance; wall hanging racks, ceiling racks, countertop racks, etc. These rack designs are made for different purposes; like pans and pots rack and utensils rack. Let's see the detailed review to learn more about it.
Design
This useful kitchen storage unit is designed with sturdy hammered steel having a powder coat finish. The shape of the rack is crafted in such a manner that it bends from both sides towards the back where anchors are placed. Enclume Kitchen Utensil Hanging Rack has 8 hanging hooks which can not only carry your utensils but also able to hang your pots and pans. The rack weighs just 3 lbs and has the capacity to hold weight up to 100 lbs just because of the sturdy steel body.
Installation
This Kitchen Utensil Hanging Rack is a wall hanging type which easily fits into the drywall without using any bolts; because the rack comes with super strong toggle anchors that mount into the drywall themselves and cling to the back of the drywall in the hollow space between the studs.
After hanging your necessary utensils and pots into this Kitchen Utensil Hanging Rack your kitchen cabinet and countertop would have sufficient free space that you can manage for other purposes. By using these kinds of racks you could not only free up your kitchen counters and cabinets but also save time with easy and quick access to your frequently used pots and utensils.
Where to Buy?
If you want to make your kitchen organize and spacious then you should buy this Kitchen Utensil Hanging Rack by Enclume. Since it is present in various online stores but Amazon is offering the rack-it-up utensil bar at an affordable price of just under $30.