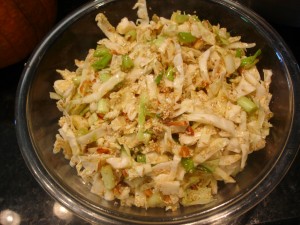 Preparation time: 15 mins. | Serves 1 large bowl
Oriental Cabbage Salad is an Asian salad that is prepared with cabbage, onion, ramen noodles, toasted nuts, and sesame. The dressing is simply made of oil, vinegar, sugar, salt, and pepper and the resulting combination is awesome. The salad is usually served as chill.
Ingredients:
1 medium head cabbage (cut into wide strips)
8-10 green onions (sliced)
2 tbsp sesame seeds
2 tbsp almond (sliced)
2 tbsp peanuts
1 cup flavored ramen noodles
1 tbsp sesame oil
2 tbsp butter
For Dressing:
¼ cup sugar
½ cup oil
1 tsp black pepper
1 tsp salt
7 tbsp white vinegar
Procedure:
1. Take a large salad bowl or dish, combine cabbage and onion, and set it aside.
2. In a frying pan heat oil and toast sesame seeds, almonds, and peanuts in it for just 1-2 mins. until fragrant.
3. Then transfer the mixture of peanuts, almonds, and sesame into the cabbage onion mixture.
4. In the same frying pan, heat butter and then cook noodles in it until golden. Then transfer it to the salad dish also.
5. Now to prepare to dress, in a separate mixing bowl, combine all the ingredients of the dressing and whisk well until well combined.
6. After that pour the dressing onto the cabbage mixture and toss the cabbage and onion well with the other ingredients. Then put the salad bowl in the fridge to chill and then serve.
photo source : 1