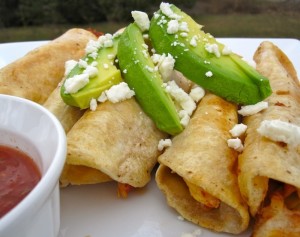 Preparation time : 20 mins. | Serves 4 persons
This flautas recipe is prepared with chicken only which you can replace with veggies and other meat also. These flautas are little bit spicy and served with mexican salsa and some seasoned avocado.
Ingredients:
2 cup cooked chicken (shredded)
1 tbsp butter
½ cup grated onion
½ cup tomato puree
1 tsp garlic powder
½ tsp ground cumin
¼ tsp chili powder
¼ tsp dried oregano
1 tsp tomato paste
¼ cup chopped fresh cilantro
Salt and pepper to taste
12 soft corn tortillas
⅓ cup cream cheese
1 avocado, pitted and sliced (tossed with lime juice and salt)
Vegetable oil for shallow frying
Procedure:
1. Heat butter in a saucepan and fry onion till become slightly golden.
2. Then add the tomato puree, garlic powder, cumin, chili powder, tomato paste, cilantro and oregano. Stir and cook for few mins.
3. Now add the shredded chicken, add in salt and pepper to taste, then cook for about 3-5 mins.
4. Heat the tortillas on a nonstick skillet, take a piece of tortilla spoon 1-2 tablespoon of cream cheese in the center, then add 2 tablespoon of prepared chicken mixture and roll from one side to other. Insert toothpick on the corner to ensure sealing.
5. Now heat oil for shallow frying in a pan and fry the prepared tortilla rolls for just 1-2 mins. then take them out onto the serving platter, remove sticks and serve with seasoned avocado and spicy salsa.
photo source : 1