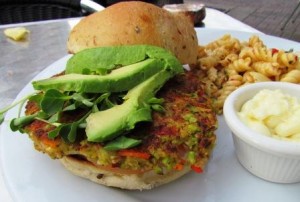 Preparation time : 30 mins. | Serves 6-8 burgers
This veg burgers recipe is prepared with fresh vegetables alongwith potatoes. In order to choose vegetables you need to pick that one which has lesser water content otherwise you need to add lot of breadcrumbs to handle with patty. You may also add quinoa in place of breadcrumbs in the mixture to make it more healthy as we use to make quinoa burgers.
Ingredients:
For Patty:
5 medium potatoes (boiled)
½ cup boiled peas
¼ cup boiled carrots (cubed )
1 cup sweet corns
Salt to taste
½ tsp crushed red chili
½ tsp white pepper
¼ tsp garlic powder
½ cup bread crumbs
For Coating:
Plain flour as required
1-2 eggs (beaten)
Breadcrumbs as required
For Assembling:
Burgers as required
Onion rings as required
Tomato slices as required
Pickled cucumbers as required
Tomato ketchup
Procedure:
1. Take a large mixing bowl, combine all veggies and mash them using masher so that very small chunks of veggies should be there.
2. Now start adding remaining ingredients including bread crumbs, spices and garlic.
3. After that make patty of any shape according to your burger and set aside.
4. Take a patty dust it with plain flour then dip into beaten egg and then coat with bread crumbs.
5. Heat oil for shallow frying in a pan and fry patties in batches till become golden crisp from both sides.
6. Now to assemble veg burger, take the bottom side of bun, spread some mayonnaise on it, then place fried patty, thin onion rings, tomato slice, pickled cucumbers and jalapenos,lastly add ketchup and cover with top side of bun. Put in microwave for just a minute then serve immediately with your favourite sauce like tartar sauce.
photo source : 1