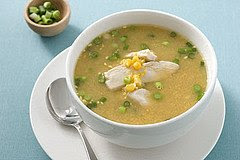 Preparation time (approx) : 90 mins | Serves 4 persons
Soups are healthy and nutritious . Cooking soups is very easy and even simple when making
chicken corn soup
. You can see the picture of soup above . By adding chicken to this recipe , it becomes more tasty and everyone will enjoy it . To learn more about the art of soup making, refer to the best selling soup cookbook
New England Soup Factory
, which contains over 100 recipes of traditional and best-tasting soups.

Ingredients:
4 cup chicken stock
2 cup corns with stock
Black pepper to taste
Salt to taste
Chinese salt to taste
1 tbspn soya sauce
1 tbspn chili sauce
Procedure:
1. Boil corns with 4 cups water. Make sure corns completely cook (it will take more time approx: 45-60 minutes depending upon the corn).
2. In a deep pan add chicken stock, corn with stock, salt pepper, soya sauce and chili sauce and cook for 5-10 minutes.
3. In a bowl dissolve 3-4 tbspn corn flour in ½ cup water.
4. Slowly add corn flour paste in the stock mixture (add corn flour according to your need how much you want thick soup)
5. Beat one egg and pour very carefully in the soup so that very thin layers (strips) of egg form.
Serving:
Dish out this chicken corn soup and serve with soya sauce, chili sauce and hot sauce.