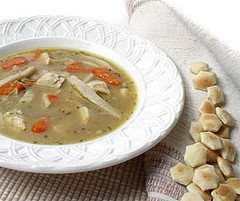 Preparation time (approx) : 40mins | Serves 4 persons
Chicken soup has high protein value and is made in different styles. In this Chicken Noodle soup recipe, chicken soup is cooked with noodles and it will be very attractive for kids and they will definitely enjoy this yummy recipe. You can use any noodles for this recipe. You can either make noodles at home via noodle maker or buy directly from your nearest grocery shop. To learn more about the art of soup making, refer to the best selling soup cookbook New England Soup Factory, which contains over 100 recipes of traditional and best-tasting soups.

Ingredients:
4 cups chicken stock
2 carrots (chopped)
1 stalk of celery (chopped)
2 teaspoons fresh parsley (chopped)
1 1/2 cups egg noodles
Salt to taste
Pepper to taste
Procedure:
Chicken Stock:
1. Boil ½ Kg chicken with 5 cups water, salt pepper and garlic cloves.
2. After 15 minutes when the water completely boil drained out chicken pieces and separate meat from the bones.
3. Drained water is the chicken stock and shredded chicken is also used in the soup.
Soup:
1. In a pan on heat add chicken stock, carrots, and celery, parsley and egg noodles in it.
2. Cook on high heat to completely boil the mixture. After that reduce heat to slow and cover it.
3. When all the vegetable are completely done (cook), add salt and pepper and shredded chicken
pieces.