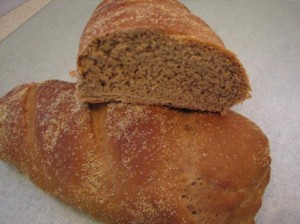 Preparation time : 40 min + 2 hrs. Resting time | Serves 8 pieces
This is a slightly modified recipe of the original Honey Wheat Bread recipe from Outback Steakhouse restaurant. The bread has some chocolate flavor due to use of cocoa in the recipe.
Ingredients:
1½ cup warm water
2 tbsp butter (softened)
½ cup honey
2 cup bread flour
2 cup wheat flour
1 tbsp sweetened cocoa
1 tbsp sugar
2 tsp instant coffee
1 tsp salt
2¼ tsp yeast
1 tsp caramel color
3 tbsp cornmeal (for dusting)
Procedure:
1. Mix together dry ingredients including bread flour, wheat flour, yeast, salt, sugar, coffee and cocoa.
2. Make a well in the center of the mixing bowl using the dry mixture and one by one add warm water, butter, yeast, caramel food color and honey and then slowly mix the well mixture with the dry mixture until a soft dough would form.
3. After making the dough kneads it properly like pizza dough so that dough becomes smooth. Let the dough rise to double size for at 1 hr.
4. After that divide the dough into 8 equal pieces and make elongated shapes of size 8 inch long and 2 inch wide.
5. Place them on a cookie sheet and sprinkle cornmeal, cover the sheet and let them rise for 1 hr more.
6. Bake at 350 degrees F for 20-25 min. until become dark brown from top.
photo source : 1