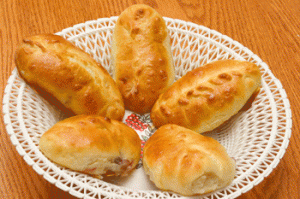 Preparation time : 60 mins. + 2 hrs. dough resting time | Serves 18 buns
This stuffed buns recipe is basically one of a famous buns of Russian cuisine where it is known as Pirozhki. It is stuffed with different ingredients like meat, veggies, potatoes, etc. In this particular recipe, I use shredded chciken and mashed potatoes both with spicy seasoning to prepare stuffing. It is usually served hot with ketchup or your favorite dip.
Ingredients:
For Dough:
3 cup flour
1 1/2 tsp Dry yeast
1 1/2 tsp salt
2 tbsp sugar
1/2 cup lukewarm water
2 eggs
1/2 cup lukewarm milk
1/4 cup Oil
For Stuffing:
3 medium potatoes (Boiled and mashed)
2 medium onions (Chopped)
1 cup chicken (shredded)
1 tbsp ginger (Finely chopped)
1 tbsp garlic (Finely chopped)
1 tbsp coriander leaves (Finely chopped)
1/2 tbsp coriander powder
1 tsp chili powder
1 tsp hot mix spice powder
1 tbsp tomato ketchup
2 tbsp oil
Procedure:
1. Dissolve yeast with 1 tsp sugar in lukewarm water and leave for 5 mins. until mixture becomes foamy.
2. Take a large mixing bowl, add in flour, sugar, salt, oil, 1 whole egg and only egg white of second egg (keep its yolk for brushing) and milk. Knead the dough nicely till become smooth (add water according to the requirement) and then put it in deep bowl, cover it tightly and keep at warm place for at least 2 hrs. till the dough rises to double.
3. Now to prepare stuffing, heat oil in a pan, saute onion for just 1-2 mins, till become soft and pink in color.
4. Then add ginger and garlic and stir for a minute.
5. Add coriander and chili powder and stir and then add chicken and potatoes and mix them well.
6. After that add hot mix spice powder, coriander and tomato ketchup and mix well.
7. Remove the pan from heat and let it cool to room temperature.
8. Meanwhile slightly knead the prepared dough again (if necessary add little bit of oil) to make it smooth and then form small balls of 1-inch size.
9. Flatten each of the ball using hand such a way that you can place a tablespoon of prepared filling easily at the center and then bring all the edges to the center point to seal the stuffing.
10. When you completely deal the ball, roll it in circular patter at your palm and give it any shape you want (i usually give oval shape). Similarly prepare rest of the balls and keep them on a greased baking tray, make sure that distance between each ball is at least 2-inch. Brush the top of each ball with beaten egg yolk.
11. After that leave the tray at room temperature for 15 mins. then place it in preheated oven at 350 degrees F for about 20 mins. or till they turn golden brown from top.
photo source : 1