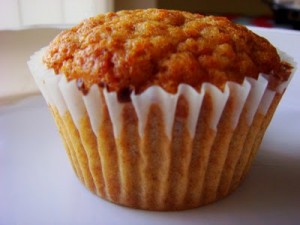 Preparation time : 40 min. | Serves 2 dozen
This morning muffin recipe is prepared with coconuts, raisins and pecans hence become a complete meal for breakfast. It can be prepared in the form of bread and can be served with tea.
Ingredients
2 ½ cup caster sugar
4 cup flour
4 tsp ground cinnamon
4 tsp baking soda
1 tsp salt
1 cup shredded coconut
1 cup raisins
4 cup carrots (grated)
2 apples (grated)
1 cup pecans (coarsely chopped)
6 eggs (lightly beaten)
2 cup vegetable oil
1 tsp vanilla extract
Procedure:
1. Sift together sugar, flour, cinnamon, baking soda, and salt.
2. Add coconut, raisins, carrots, apples, and pecans and mix well.
3. Now add eggs one by one and mix well with the dry mixture.
4. When the mixture becomes gets the shape of sticky dough, add oil and vanilla and mix it evenly in the batter.
5. Now take a suitable greased muffin pan and pour mixture into the pan so that every cup is ¾ filled.
6. Place the pan in preheated oven for 30 min at 375 degrees F.
photo source : 1