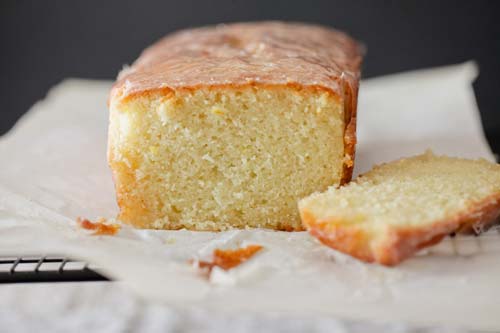 Preparation time: 60 mins. | Serves 1 loaf
This is a copycat version of the famous Starbucks Lemon Loaf Recipe. It is prepared in a simple fashion like plain bread but the addition of lemon icing at the top makes it different and enhances the flavor.
Ingredients:
1½ cups all-purpose flour
½ tsp baking soda
½ tsp baking powder
½ tsp salt
3 eggs
1 cup sugar
2 tbsp butter (softened)
1 tsp vanilla extract
1 tsp lemon extract
5 tbsp lemon juice
½ cup oil
1 tsp lemon zest
For Lemon Icing:
1 cup powdered sugar
2 tbsp whole milk
½ tsp lemon extract
Procedure:
1. Sift together dry ingredients including flour, baking soda, baking powder, and salt in a bowl.
2. In another bowl, beat together eggs, sugar, butter, vanilla, lemon extract, and lemon juice until well blended.
3. Now, combine dry ingredients with the liquid mixture and mix until gets a smooth texture.
4. Add oil and beat the batter again at low speed to mix well.
5. Pour this batter into the greased 9×5-inch loaf pan and bake in preheated oven at 350 degrees F for 45 mins. or until the toothpick inserted comes out clean.
6. Meanwhile, prepare lemon icing by combining all the icing ingredients in a mixing bowl. Beat the mixture at low speed until gets a slightly thin creamy texture.
7. When the loaf is ready, cool it to room temperature then drizzle the prepared icing on top of the loaf. Leave the loaf as it is for 15 mins. until the icing sets nicely.
8. Serve the homemade Starbucks Lemon Loaf after cutting it into slices.