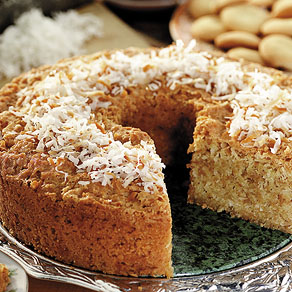 Preparation time : 80 min. | Serves 8 persons
This wafer cake recipe is prepared with vanilla and coconut flavor. You can make it according to your desired flavor by replacing vanilla wafers with another flavor. If you feel that the batter is too thick while mixing all ingredients then add some more milk to the batter so that every ingredients incorporates well with each other.
Ingredients:
6 large eggs
1 cup sweetened coconut flakes
½ cup milk
12 oz box vanilla wafers (crushed)
Chocolate chips (optional)
2 cup sugar
1 cup chopped pecans
Procedure:
1. Preheat oven to 350 degrees F.
2. In a large mixing bowl, beat eggs at high speed until become fluffy; it would take 3-5 min.
3. Add sugar and beat again until become creamy batter.
4. Now fold the beaten eggs with chopped wafers, pecans, half amount of coconut flakes and milk.
5. When all the ingredients incorporate well, pour the batter into the greased baking pan and bake in preheated oven for at least an hour until tooth pick inserted comes out clean.
6. When the cake has been done cool it to room temperature and top with remaining coconut flakes before serving.
photo source : 1