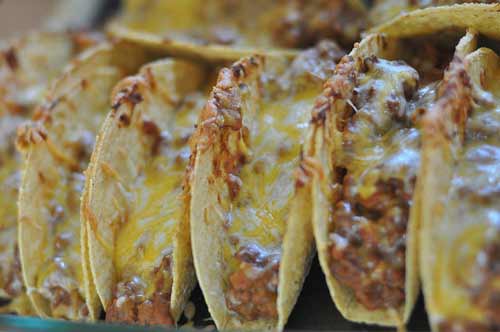 Preparation time: 35 mins. | Serves 12 tacos
This Oven Baked Tacos Recipe is a tasty taco recipe, which is prepared mainly with ground beef and refried beans. You may prepare this recipe either with ground beef or ground turkey.
Ingredients:
2 lb ground beef or turkey
16 oz refried beans
8 oz tomato sauce
2 ¼ tbsp taco seasoning
1 oz cheddar cheese (shredded)
12 taco shells
Procedure:
1. To make filling for tacos, brown the ground beef in a large saucepan for 4-5 mins. until becomes brown in color.
2. Drain the excess fat and then cook the browned beef over low heat with refried beans, 2/3 tomato sauce, and taco seasoning for 10-15 mins.
3. After that stir well and cook over high heat for 5 more mins. until the sauce gets a little denser. If you like, soggy tacos then immediately remove the pan from heat otherwise; you can cook further to get your desired consistency.
4. Now line the taco shell on the baking tray and fill each of the tacos with 2-4 tbsp of prepared filling, sprinkle cheddar cheese, and then drizzle the remaining tomato sauce on top.
5. Bake in preheated oven at 375 degrees for 10 mins. until the cheese melts and starts bubbling.
photo source : 1