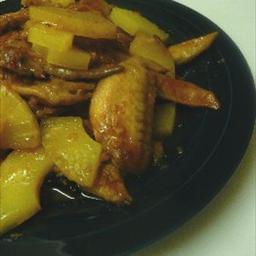 Preparation time : 70 min. | Serves 4 persons
This baked chicken wings recipe is prepared with pineapple flavor having lots of pineapple chunks. The wings are baked in two steps in first step it is only baked with bread crumbs and ketchup while in second step it is baked with special sauce mainly prepared with pineapple juice and hot sauces. It is one of a popular wings recipe from Hawaiian cuisine.
Ingredients:
¼ cup margarine
½ cup tomato ketchup
1 clove garlic (minced)
3 lb chicken wings
1 cup fine dry bread crumbs
14 oz can pineapple chunks with juice
2 tbsp brown sugar
1 tbsp fresh ginger (minced)
1 tbsp Worcestershire sauce
2-3 drops Tabasco sauce
Procedure:
1. Marinate wings in ketchup and garlic and leave for 15 min then coat with bread crumbs.
2. Heat margarine in pan then coat each wing with the butter and then place in greased baking dish.
3. Bake in preheated oven for 30 min at 350 degrees F.
4. Meanwhile prepare sauce for the wings by mixing pineapple juice (drained form pineapple chunks), Worcestershire sauce, Tabasco, brown sugar and ginger.
5. Take out the wings form oven after 30 min and then pour the sauce over the wings and then bake again for 20 min more until chicken tender completely. Add pineapple chunks for last 5 min.
photo source : 1