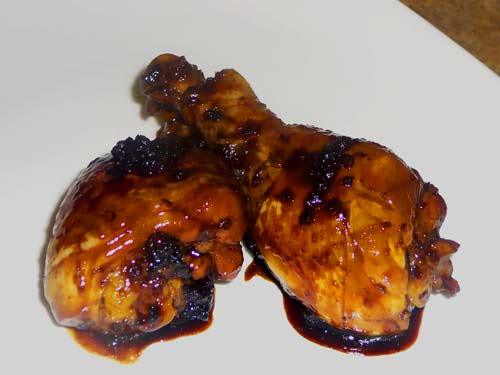 Preparation time : 30 mins. | Serves 4 persons
This Japanese Mum's Chicken Recipe is one of a simple and easy recipe that everyone can make it. In this recipe chicken drumsticks are just cooked with few ingredients and thats it. The secret to make this chicken juicy and tasty always use skinned drumsticks as it not only tastes well but also don't allow its juice to escape out.
Ingredients:
8 chicken drumsticks with skin
1 cup water
½ cup cider vinegar
1½ tbsp sugar
1/3 cup soy sauce
2½ tbsp sugar
4 garlic clove (peeled and bruised)
2 small hot chili pepper (seeded and slit open)
Procedure:
1. Take a heavy saucepan, combine all ingredients in the pan and bring the mixture to boil over medium heat.
2. Then reduce the heat to simmer and cook for 20 mins.
3. After that remove any froth that rises on the surface and increases the flame to high so that the liquid start to thick and becomes a sticky glaze. Continue stirring the chicken pieces in between to avoid sticking it.
4. Now, turn off the heat and transfer the chicken to the serving platter, remove if there is any garlic and red chili and spoon the glaze on top.
photo source : 1