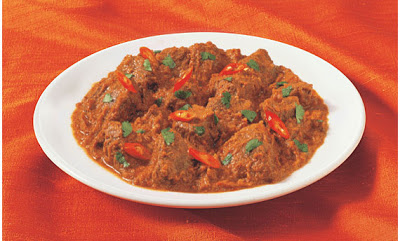 Preparation time (approx) : 50 mins | Serves 12 persons
Cooking spicy chicken is really easy and this is one of my best chicken recipes . It is slightly similar to traditional Chicken Qorma ( Also called chicken curry ) but addition of fresh cream and spices makes it different from other recipes. It has little bit of creamy texture due to the addition of cream and tastes very delicious
Ingredients:
1 kg chicken pieces
2 medium size onions (chopped)
½ cup yoghurt
1 cup tomato paste
½ cup whipped cream
1 tbspn ginger paste
1 tbspn garlic paste
2 cloves
2 cardamoms
1 cinnamon stick
1 bay leaf
1 tbspn coriander powder
½ tspn cumin powder
1 tspn all spice powder
1 tspn fresh coriander
2-3 green chilies chopped
Salt to taste

Procedure:
1. Heat oil in a pan.
2. Add red chili powder, cloves, cardamom, cinnamon stick and bay leaf and cook for 2 minutes.
3. Add chicken, ginger, garlic paste, salt and 1 cup water in it and cover to cook chicken 3/4th at least for 15 minutes.
4. Uncover the pan and add toamato paste, green chili, coriander powder and cumin powder and cook on high heat and stir.
5. After 8 minutes add yogurt in it and cook till all the water has been dried and oil separates from the gravy.
6. In the end add all spices powder and cream and mix well and cover to cook for 5 minutes.

Serving:
Garnish with coriander leaves and serve with fried rice or naan bread.