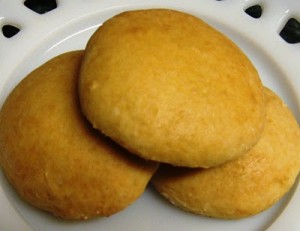 Preparation time : 20 min. | Serves 2-3 dozen biscuits
These honey biscuits are quite easy to prepare at home, the easiest method to prepare these biscuits is to use prepared bisquick otherwise you can follow the recipe given below in which homemade bisquick is prepared first and then make batter for biscuits. You can also add flavors to these biscuits like coconut, sesame topping, etc.
Ingredients:
180 gm all purpose flour
1½ tbsp baking powder
¾ tbsp sugar
¼ tsp salt
83 gm margarine
1/3 cup milk
1/3 cup honey or agave syrup
Procedure:
1. Preheat oven to 400°F.
2. In a large mixing bowl combine first five ingredients and make soft crumbs.
3. Add rest of the ingredients and form smooth thick batter.
4. Take a suitable greased cookie sheet place parchment paper over it and then drop 1 tablespoon of batter at few distances over the whole sheet.
5. Bake in preheated oven for 12 min until become light golden and then cool on wire rack.
photo source : 1