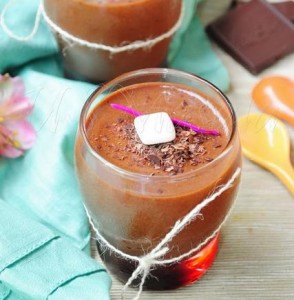 Preparation time : 45 min. | Serves 4 persons
This chocolate mousse easy recipe is actually an eggless chocolate mousse recipe which is prepared quite easily. It only takes time to set after preparation otherwise whole procedure takes almost no time. You can make lots of variations in this recipe for instance; to give it marble like texture use plain vanilla custard and swirl both custard and mousse batter in serving glass cups and then serve after chill.
Ingredients:
1 tsp gelatin
½ cup fine granulated sugar
¼ cup dark cocoa powder
1 cup cold whipping cream
1 tsp vanilla essence
Procedure:
1. Dissolve gelatin in 2 tbsp of cold water. Heat a cup of water in a bowl and place the gelatin bowl over it. Stir continuously until gelatin completely dissolves in water.
2. In a separate mixing bowl stir together sugar and cocoa, then add whipping cream and vanilla and beat at medium speed. When batter gets stiff mix it with gelatin and pour the mousse batter in individual serving cups or in an appropriate serving bowl. Refrigerate for at least 30 min.
3. Serve the tempting easy chocolate mousse with topping of crushed chocolate and whipping cream.
photo source : 1