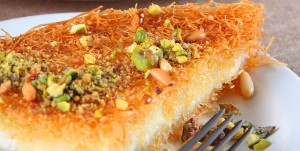 Preparation time : 25 mins. | Serves 4-6 persons
This Kunafa recipe is taken from Arabian Cuisine where it is one of the most famous sweets. This recipe is prepared in a different fashion as compare to typical Kunafa, in this recipe ricotta cheese is used as stuffing and crisp vermicelli is used in place of Kataifi.
Ingredients:
1 lb Khoya or ricotta cheese
1 cup vermicelli or Kataifi
¾ cup butter (melted)
Crushed almond for topping
Crushed pistachio for topping
Raisin For topping
1 cup sugar
½ cup water
1 tbsp rose water
Procedure:
1. Preheat oven on 350 degree F.
2. Start this Kunafa recipe by first combine vermicelli with melted butter.
3. Take deep baking dish, grease it well with butter and spread half quantity of buttered vermicelli at the base.
4. Then spread ricotta cheese or khoya on it and then again cover with the remaining vermicelli. Bake in preheated oven for 15-20 mins, until become golden brown in color from top.
5. Meanwhile prepare syrup by cooking sugar, water and rose water in a pan.
6. When the vermicelli is done, remove it from oven and cool it to room temperature.
7. In the end, pour the hot sugar syrup onto the baked vermicelli and top with chopped almonds, pistachio and raisins.
8. Serve this version of delicious Kunafa recipe as hot or cold.
photo source : 1