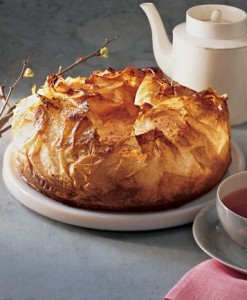 Preparation time : 35 min. | Serves 4-6 persons
This Sweet Potato Soufflé Recipe is another addition to our Thanksgiving Menu Ideas. It is slightly different from other sweet potato soufflés in which flour, marshmallows and nuts are used. It s simply prepared with maple syrup flavor and egg whites batter make this soufflé fluffy texture.
Ingredients:
2 tbsp unsalted butter
1¼ cup confectioner sugar
15 oz sweet potatoes
8 large eggs (separated)
1 cup heavy cream at room temperature
2 tsp ground cinnamon
1¼ cup pure maple syrup
Procedure:
1. Preheat oven to 350 degrees.
2. In a large bowl, mix together sweet potatoes, egg yolks, cream, 1 cup sugar, cinnamon and ¼ cup maple syrup. Beat all these ingredients until become smooth batter.
3. In a separate bowl, beat egg whites with remaining sugar until soft peaks form.
4. Now gradually fold egg white mixture with the sweet potato mixture so that marble texture would form.
5. Pour the batter in a greased soufflé dish and bake in preheated oven for 20 min until become golden brown from top.
6. Meanwhile, in a frying pan, heat remaining 1 cup maple syrup over low heat to make it slightly thin.
7. Serve the hot sweet potato soufflé with topping of maple syrup.
photo source : 1