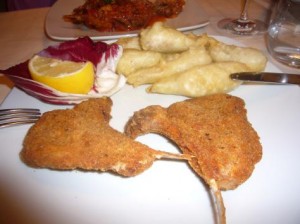 Preparation time : 30 min. | Serves 2 persons
These lamb chops fried can be prepared with any kind of chops either mutton, beef, etc. The good point is that its method and ingredients are very simple and can be prepared within half an hour. These chops can be served with fries and tartar sauce.
Ingredients:
½ kg mutton/beef/ lamb chops (flattened)
1 tbsp ginger garlic paste
1 tsp salt
¾ tsp meat tenderizer powder
2 tbsp Worcestershire sauce
1 large bread slice (chopped)
¾ tsp black pepper
¾ tsp mustard powder
1 egg
Bread crumbs as required
2 tbsp lemon juice
Oil for deep frying
Procedure:
1. In a mixing bowl combine ginger garlic paste, salt, meat tenderizer, Worcestershire sauce, bread slice, black pepper, mustard powder, egg and lemon juice.
2. Marinate chops with the mixture and then coat chops with bread crumbs.
3. Heat oil for deep frying in a wok and fry chops by covering the lid over low flame till become golden brown from every side.
photo source : 1