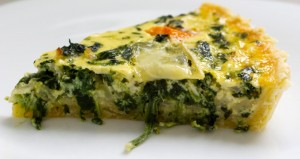 Preparation time : 20 min. | Serves 4-6 persons
This Spinach Pizza was inspired by the original copycat Applebee's Spinach Pizza. This is totally a vegetable flavor pizza which you can easily make at home and save money.
Ingredients:
3 pita bread or medium pizza crust
For Spinach Topping:
1 cup rice milk
1 tbsp all purpose flour
1/3 cup Parmesan cheese
10 oz. frozen spinach (thawed and drained)
For Vegetable Topping:
1 medium onion (chopped)
3 garlic cloves (minced)
1 tbsp olive oil
5 medium tomatoes
8 oz fresh mushroom (sliced)
1 tsp basil
1 tsp parsley
1 tsp cayenne pepper
Salt to taste
Procedure:
1. Heat rice milk in a pan to prepare spinach topping.
2. Just before the boiling point of milk, add flour and mix it gently so that no lumps would form. Cook the mixture on medium heat until it gets thick.
3. Now add Parmesan cheese and spinach to the sauce and mix well. Cook for further 3-4 min more and then set aside.
4. To prepare vegetable topping, sauté onion and garlic in olive oil until become soft.
5. Now add rest of the ingredients including tomatoes, mushrooms, basil, parsley, cayenne pepper and salt. Cook on high heat for just 2-3 min, then remove from heat and drain all the excess water of veggies.
6. Take a piece of pita bread and divide it into two pieces by splitting the bread horizontally from center.
7. Place the pita bread pieces on a greased cookie sheet and one by one top each of the bread with the prepared spinach sauce and vegetable mixture.
8. Now bake the pizza for 5 min at 450 degrees F. When the pizza is done, tkae it out from oven and serve it immediately.