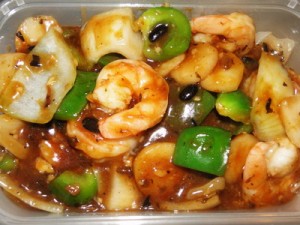 Preparation time : 30 mins. | Serves 2-4 persons
This king prawn recipe is prepared with black bean sauce and lots of peppers. Since prawns take very short time to cook thus its one of a quick and easy recipe to prepare at home.
Ingredients:
1 cup king prawns (remove tails and cleaned)
2-3 thin fresh green chilies (finely chopped)
1 tbsp sesame oil
2-3 cloves fresh garlic
1 tsp fresh ginger (crushed)
1-2 red or green bell pepper (cubed)
2-3 tbsp sesame oil
½ cup black bean sauce or as required
Few coriander leaves for garnishing
Procedure:
1. Rub thoroughly chopped green chilies onto the prawns and then mix well with 1 tbsp sesame oil and then leave for 15 mins. to marinate.
2. Meanwhile heat the oil in a wok, saute ginger garlic for just 1-2 mins. then add the marinated prawns and cook them together over high heat for 2 mins.
3. Then add the cubed bell peppers and stir fry for few mins.
4. Now add the black bean sauce and cook till gets boil.
5. Turn off the flame and transfer the prawns to the serving platter and garnish with coriander leaves.
photo source : 1