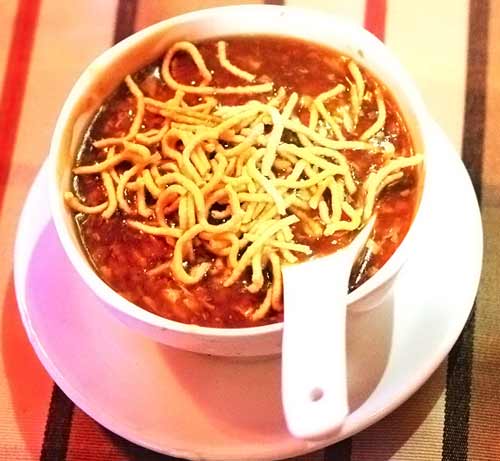 Preparation time: 30 mins. | Serves 1 large bowl
This Chicken Manchow Soup Recipe is prepared with vegetables, chicken, and some sauces. The soup not only tastes awesome but also a very healthy diet for all age people. You may serve this soup with some topping of crackers and with bread slices.
Ingredients:
2 tbsp oil
1 tbsp garlic (chopped)
1 tbsp ginger (chopped)
1 lb boneless chicken (cut into fine pieces)
¼ cup cabbage (shredded)
¼ cup green capsicum
¼ cup carrot (chopped)
4 cups chicken stock 4 cups
2 tbsp tomato puree
Salt to taste
3 tbsp soya sauce
3 tbsp white vinegar
1 tbsp chili sauce
1 egg (lightly beaten)
4-6 tbsp corn flour
Procedure:
1. Heat oil in a heavy saucepan, sauté ginger, garlic, and green chilies in it for 2-3 mins.
2. Add chicken pieces and cook until the chicken turns white and all the liquid becomes dry.
3. Add all the vegetables including cabbage, capsicum, and carrot, and cook for 3-5 mins.
4. Now add chicken stock along with soya sauce, chili sauce, vinegar, tomato puree, and salt and cook over medium-high heat till the mixture starts boiling.
5. Reduce the flame to medium and simmer for 2-3 mins.
6. Dissolve corn flour in ¼ cup water and slowly add it to the soup, stir well while adding and the soup starts to thick.
7. When the soup gets desired consistency, slowly pour the beaten egg and keep stirring so that fine threads of the egg would form.
8. Chicken Manchow Soup is now ready to serve with a topping of some crackers and bread.
photo source : 1