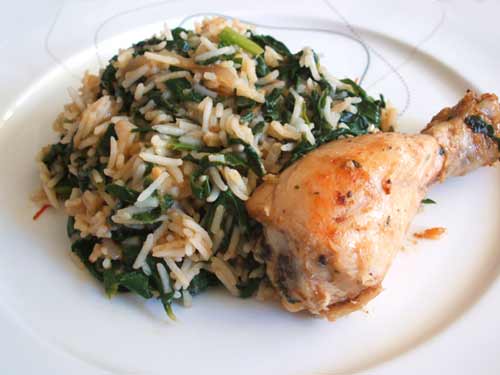 Preparation time : 30 mins. | Serves 2 persons
This Spanakorizo Recipe is nothing but a Spinach and Rice pilaf. It is one of a famous pilaf of Greek cuisine and is usually served with some roasted steamed chicken, fresh salad or with some sort of curry.
Ingredients:
4 tbsp olive oil extra virgin
1 cup red onion finally chopped
1 garlic cloves minced
1 cup rice long grain
1 lb baby spinach stem removed
1/2 cup water or as required
1/2 cup dill chopped
salt to taste
1 tsp black pepper ground
2 tbsp lemon juice
Procedure:
1. Heat oil in a saucepan and saute onion in it for just 1-2 mins. to make it soft.
2. Add garlic and rice and cook for 2-3 mins. Stir while cooking to avoid sticking the rice at the bottom of the pan.
3. Add spinach and them simmer for few minutes until spinach leaves become soft and release liquid.
4. Now add salt, pepper, dill and upto 1 cup water just enough to cover the rice level. Cook over high heat until water disappears from the surface then reduce the heat to simmer and cook until rice gets tender and soft.
5. When the rice has been cooked well and steam appears on the top then remove the pan from heat and serve the hot Spanakorizo with steam chicken or some yogurt sauce.
photo source : 1